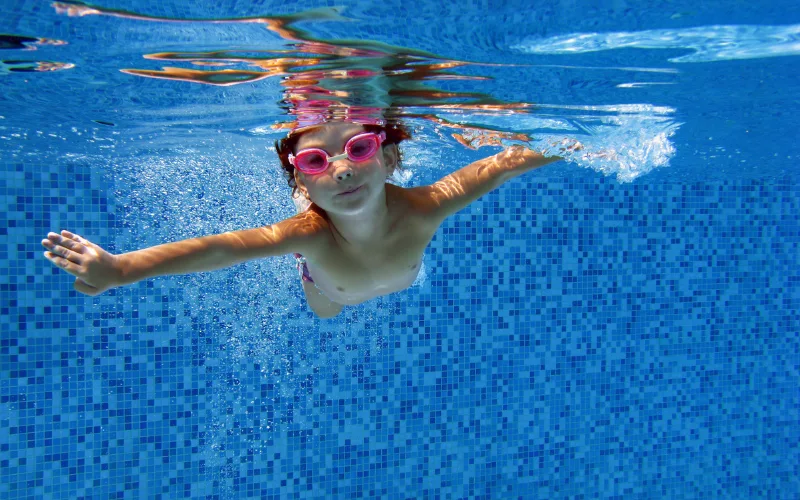 We often get asked how to achieve crystal clear pool water and maintain it. A crystal clear and sparkling pool is just a delight to look upon. It is a wonderful feeling to look at your pool and know that you've got it just right.
Assuming that all your swimming pool equipment and your swimming pool accessories are in good working order, all you need to do to maintain a sparkling pool is stay on top of the water balance and remove any debris from the pool as soon as possible. This may mean spending anything from 30 – 90 minutes a week depending on your pool and the environment.
So how do you do this? The first step is to ensure you have balanced water to start. Get a full water test completed in our Christchurch store before you start swimming for the season. This is a free service to our retail customers. At-home water testing is OK for weekly tests during the summer, but they are not accurate enough for the summer start-up and correct balancing of your pool. If it is not practical for you to come to our Christchurch store, contact us to find out the best practical solution for you.
Once your water is balanced you need to regularly test your water and adjust levels accordingly to maintain the sanitiser level (chlorine in most pools) and the pH. Even if you have an automated system that controls your sanitiser level and pH you still need to test the water to check the equipment is working correctly. Failure to perform your own testing with automated systems can mean you don't know anything is wrong until it has become a major problem.
The only way to know if the pool is healthy and safe for family and friends to swim in is to test the water regularly.
To ensure your pool is healthy and safe you need to maintain consistent sanitiser levels. If the sanitiser level dips below the minimum required you cannot be certain that any bacteria or 'bugs' in the water have been killed. Algae can also begin to multiply. Once algae has begun to multiply it can flourish rapidly and take as little as 24 hours sometimes to turn the pool green.
Pro Tip #1: Use an Oxidiser
Shock dose your pool weekly to remove undesirable impurities from the water. Always use an Oxidiser to remove undesirable impurities from the water. Using an Oxidiser weekly keeps your pool sparkling clean and enhances chlorines killing power so you'll use less chlorine and it will be more effective at killing bacteria and bugs.
The faster you remove any debris from the pool, the better it will look. If you have a leafy property you may need to empty your skimmer basket and skim or rake leaves from the pool daily. Even pools that look like they have no debris will have dust on the bottom of the pool. Vacuuming or using a robot to clean the pool at least once a week will assist with keeping the pool crystal clear.
Pro Tip #2: Use Optimiser
For a pool to look its best we recommend Optimiser and/or Pool Complete.
We love Optimiser so much at Poolside Christchurch, that all of our valet clients' swimming pools are Optimised. The clarity of swimming pool water is greatly enhanced by the addition of Optimiser to the pool water. It contains an ingredient that is reflective so it really does make the water sparkle. Added benefits include less skin and eye irritation, softer water that doesn't leave your skin or hair dry and best of all it makes all sanitiser types more effective. So it saves you time and money in the long run.
Pool Complete is the newest product to the market for BioGuard and we've fallen in love with it already! Pool Complete is the finishing touch for your pool. Added to the pool weekly it improves water clarity, reduces phosphates in the water and reduces the build-up of a 'scum' line around the pool. For a 50,000 litre pool, one bottle of Pool Complete will last just over 3 months.
If you don't really want to do all this pool maintenance yourself, then you also have the option of using one of our pool service plans. We can come out to your pool and maintain it for you on a regular basis. The Essential Pool Service Plan covers the basics such as checking the equipment, and testing and balancing the water, and the Premium Pool Service Plan includes this plus cleaning the pool.
If you have any questions at all please contact us.