The Poolside Christchurch Story

Poolside Christchurch is a specialist pool maintenance business. We are experts in maintaining pool water and pool equipment. In our store you will find friendly, knowledgeable team, who will take the time to ensure you know and understand what you need to do to maintain your pool in excellent condition. Our pool technicians can come to you if you need assistance poolside to repair or replace all brands of swimming pool equipment, give lessons to new pool owners and rectify the dreaded green pool.

Poolside Christchurch was an established business purchased by Lynda and Richard in June 2014. At that time it was a husband and wife business with one full-time employee. The business had been around for over 40 years, initially being a small division of a well-known swimming pool building business in Christchurch. At the time of purchase, the industry and city were still climbing their way out of the devastation from the Canterbury Earthquakes. The business had great bones thanks to the dedication of the previous owners, the Sweeney family.
Back in 2014, the business operated out of very old and small premises on the corner of Riccarton and Clyde Roads. With their trademark passion and desire to turn the business into 'the best pool business in NZ', Richard and Lynda started by taking on a second employee within the first month. Behind the scenes they, along with the key team member Lee, who moved over from the old business, set about getting more automation and efficiencies into the business. Lynda and Richard were setting the foundations for scaling the business. In March 2018 the business moved to its current site on Blenheim Road, which is more than 3 times the size of the previous location.
These days Poolside Christchurch operates with a much larger team and is always searching for new superstars to recruit. There are two distinct sides to the business. Firstly, retail, which is the shop where you can get your pool and spa supplies along with lots of helpful advice. The shop has an awesome, experienced team of experts always ready with a smile and one-to-one advice. Secondly, service is the valet-service-repair side of the operation. The service side has 5 vans on the road, driven by a team of expert pool technicians, determined to help their customers enjoy their pools.
The business has trebled in size since 2014 and continues to grow rapidly. Poolside Christchurch won the Swimming Pool and Spa Association of NZ's BEST POOL STORE in 2020 and 2021 along with a number of other awards.
Richard and Lynda attribute their growth and awards to just 3 key things; planning, attitude, and customer focus.
"We have an amazing team," says Richard, "but it is no accident. We only employ people who aren't afraid to be exceptional. We create the environment for that to happen."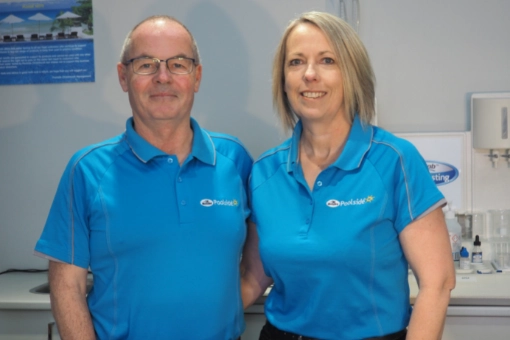 Lynda is co-owner of Poolside with her husband Richard.  Originally from Blenheim, Lynda moved in 2002 with Richard and young kids from Christchurch to Blenheim so that the kids could grow up closer to their grandparents. At the same time, she and Richard purchased a suburban pharmacy business and over the next 10 years or so more than doubled it in size and turned it into a multi-award-winning business. At that time Lynda was a practising pharmacist, having done so since she graduated in 1989.
When the kids got to their early teens, it was time to move back to the big smoke, so Lynda and Richard returned to Christchurch. With all the changes, she thought, "why not do something different?" So no more pharmacy it was and swimming pools became the new work passion.
Away from work, Lynda is passionate about dance,  particularly ballet and highland dancing, passing that passion onto her daughter Hannah. For the past 20 years or so she has been involved in all levels of supporting Hannah, from dance mum to administrator. Lynda is currently the president of the Christchurch Ballet Society. As with everything else in her life she gives this 100% commitment and effort.
She is enormously proud of her children who are now adults following their dreams with the same passion that their mum brings to the table every day in everything that she does.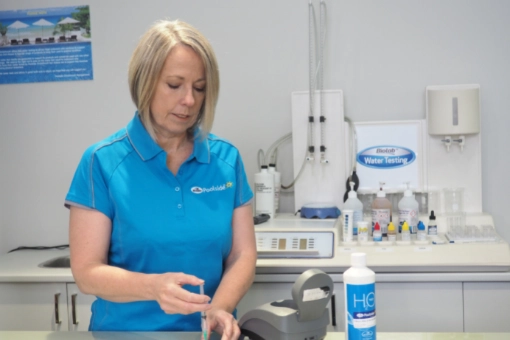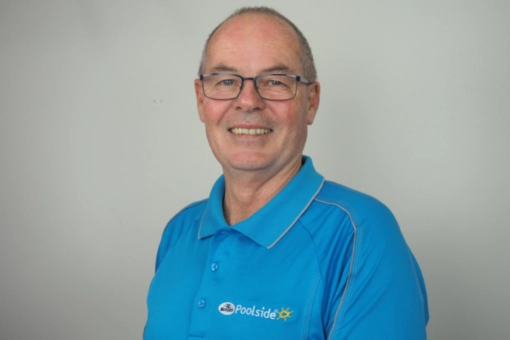 Richard is co-owner of Poolside with his wife Lynda. When they purchased their pharmacy business, Richard had come out of the finance sector. If there wasn't enough change going with moving to a new town and taking on a pharmacy business, the couple decided to swap places at home for a while. Richard took on the "house dad" mantle, juggling looking after 2 preschoolers while overseeing the business side of the pharmacy. Lynda meanwhile worked full-time assuming day-to-day operational control of that business. Richard describes his time as a stay-at-home dad as the hardest and most rewarding work he has ever done.
When the kids got to their early teens, Lynda and Richard returned to Christchurch. With all the changes, they thought, why not do something different? So swimming pools became Richard's new work passion. As he says, "we had owned a pool for over 10 years, so how hard could it be?" Wow, was he wrong!
Richard is motivated by his three major passions in his life, family, business, and golf. He is enormously proud of his family and the way their kids are forging their own paths in the world as adults. On the business front, his key philosophies are trying to be exceptional all of the time, while at the same time enjoying what you do. He loves taking a small business and turning it into a market leader.
Lastly, he says that playing golf since the age of 12 instilled in him, along with his parents, core values as he grew up. It has taught him things such as honesty, respect, resilience, determination. Most of all though, it is a fun game to play!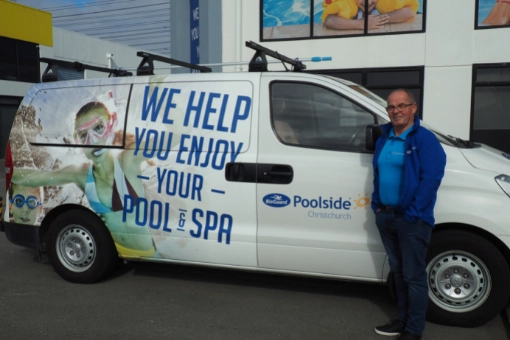 Great personal service from a team which knows what they're talking about.
Ross Keenan
I contacted several chemical suppliers in Canterbury (as I'm a newbie pool owner) and Lynda at Poolside came back with the most helpful reply and comprehensive information. I went in-store today and was blown away by the level of customer service. Lynda was super helpful and full of excellent tips and advice. I now feel much more confident about managing my pool, and know that I can always go and see Lynda if I get stuck. Plus, the product range was excellent and prices were good too! I won't be going anywhere else – very impressed!!!
Tania Curtin
Great service and advice from these guys. Have had a pool for 10 years and was made aware of them a couple of years ago and the pool has never been better, regular water testing service and the correct info to fix and maintain pool water quality. I'd highly recommend them to anyone with a spa or pool. 👍
Nathan
Does your pool need some love?

If your pool is looking a bit sick, or you don't have time to keep up with the pool maintenance, we are here to help!
Award Winning Poolcare Team