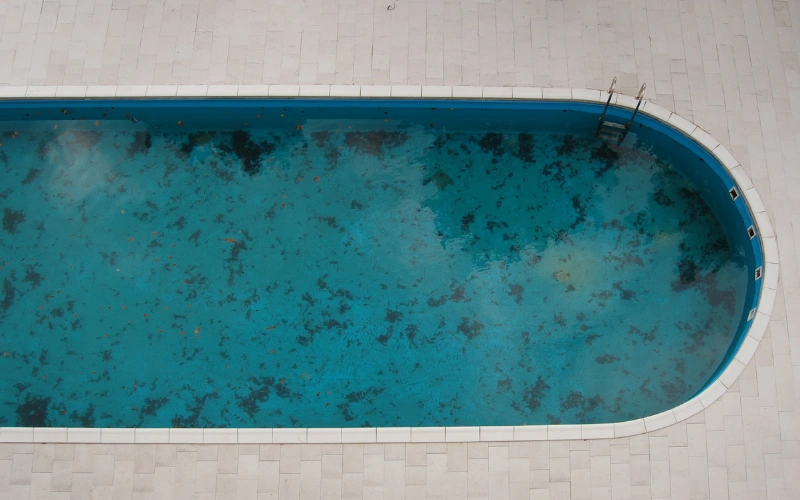 Do you ever wonder exactly what makes swimming pools dirty? Here we outline some of the main reasons your pool water can become unclean and unhealthy.
People make swimming pools dirty
People are one of the largest contributors to making your swimming pool dirty. Your pool is constantly being bombarded with dirt and bacteria. Every person who swims in your pool releases bacteria, body fats, and between 15-50ml of ammonia and nitrogen into the water. Not to mention any dirt they may have picked up near the pool.
Animals make your pool dirty
Dogs swimming in your pool will add dirt and bacteria, as well as likely leaving a large amount of hair in the water. Dogs should be discouraged from swimming in your family pool as they will affect the chemical balance of your water and their fur can affect your expensive pool equipment/hardware.
Ducks can also be a real problem if they take a liking to your pool. They can leave a lot of droppings in and around the pool. Read more about ducks and your swimming pool.
The environment makes your pool dirty
Dust from the wind, decomposing leaves and plant matter, and dirty feet all contribute to a dirty swimming pool. Rainwater also carries sediment and washes in from the side of the pool.
Any body of water that is not constantly moving will have a gradual build-up of algae. Algae come in thousands of types and many colours. Keeping your pool pump running is important to prevent algae, and using the right algaecides can prevent build-up in areas your pump can't reach.
Keeping your pool water clean
To keep your pool clean and healthy you need to follow a regular pool maintenance program. It is best to stay on top of maintaining your pool as recovering from a green sick pool can be very costly, as is replacing or repairing your swimming pool hardware. Read more about maintaining crystal clear pool water.
So now you know what makes your swimming pool dirty and why you need to stay on top of your pool care, to ensure clean healthy water for all the family. Need a hand getting this done? See our range of pool care service options if you need help with a pool cleanup or want regular maintenance by a specialist pool technician.