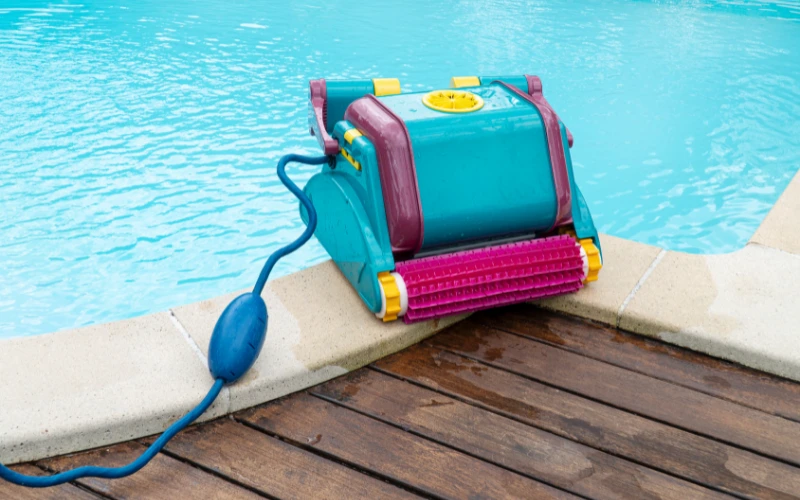 Is the time you spend cleaning, dosing and maintaining your pool over summer stopping you from engaging in other activities like swimming, golfing or maybe even work? If you want some time back in your summer's day, it's worth considering some swimming pool automation.
Swimming pool automation
Here we use the term 'automation' quite loosely and some of the options suggested do in fact require some human assistance. So let's start at the basic level and work up from there.
1.  The first place to start is to use a timer for your pool pump. You can buy a simple timer from any good hardware store, set the times you want your pump to turn on and off, plug the pump into the timer and turn it on. For most pools here in NZ the pump should run for a period of time EVERY day of the year (longer in summer, less in winter). Don't leave the turning on and off of the pump to chance – automate it!
2.  The next step up in pump automation is a programmable pump that can run for set cycles. There are better ways of achieving this outcome by connecting your pump to an automated chlorinator.
Chlorination
Automating the chlorination of your pool is highly desirable. Pool owners with automated systems have far less trouble with algae and the dreaded green pool than those who have no automation. There are many options available and they are collectively called 'chlorinators'.
The simplest chlorinator is a tablet feeder. Multiple chlorine tablets are stacked inside a tablet feeder that is plumbed into the pool circulation system. As the water flows through the feeder, chlorine tablets slowly dissolve releasing chlorine into the pool. This is a very economical option for those on a limited budget.
We install the Hayward CL200 tablet feeder.
A big step up is to look at a salt chlorinator or a liquid chlorine dosing machine. These are the units we mentioned earlier that you can plug your pump directly into. Let's look at the liquid chlorine option before embarking on the salt discussion:
Automatic dosing machines for liquid chlorine have been on the market for many years and have proven to be sturdy, reliable and relatively long-lasting. They use a probe to analyse the water and add precise doses of chlorine and acid to maintain optimum water quality.
We recommend and have been installing the Chemigem range for many years now. The Chemigem D10 is suitable for domestic pools of all shapes and sizes and gives you total control over sanitiser levels and pH.
Now let's look at salt chlorinators:
Just to clear up any confusion right from the start, salt pools are not chlorine-free pools. Salt pools are a system that uses dissolved salt in water to produce chlorine via a process of electrolysis. There are many variations of salt systems available and their price varies considerably depending on the degree of automation.
A basic salt chlorinator will produce chlorine-based on the production level it is set to. It may not have a timer included, so you may need to run it using a simple timer as discussed at the start of this blog.
Top-of-the-line salt chlorinators have probes in the system that constantly test the water to determine if chlorine is needed or if the pH is too high. These models dose liquid acid to manage the pH for you, as well as the chlorine level!
There are all sorts of variations available between the basic and top of the line, and we can usually find an option to suit most pools and budgets. We have a lot of experience with and recommend the top-of-the-line Hayward AquaRite + and  Viron Equilibrium salt chlorinators. For those looking for basic or mid-level salt chlorinators, we stock the BioGuard range of Gold and Platinum salt chlorinators. The BioGuard Platinum has an optional pH upgrade available.
If you look online you will find a huge range of options available. We have access to most brands, so if you are considering installing a salt system come and talk to us.
Cleaning
Automated pool cleaning is a great way to get back some time in your day.
3.  The easiest way to vacuum your pool is with an automatic robotic pool cleaner. It will vacuum your entire pool without supervision. It is not strictly automated as someone needs to put the robot in the pool and get it out again, however, we're calling it automation because your pool gets cleaned and you don't have to even be there!
A massive benefit of a robot is the lower running costs compared to regular suction vacuum cleaning (vacuums that have hoses attached to your filtration system). Robots are completely independent of the pool's main filtration system and estimates show that backwashing is reduced by up to 30% when using robots compared to all other cleaning methods. This means you save water and reduce chemical loss from backwashing. There are so many benefits to using a robot pool cleaner.
Let your fingers do the walking and have a look online at robotic options. There are a huge number of robotic pool cleaners on the market now and some of them are pretty good. Beware the very cheap cleaners though as you do get what you pay for. We have Dolphin (Maytronics) robots in stock as they are our favourite robots and we are the South Island service agent for them. We occasionally have Hayward and Zodiac robots in stock as well.
Advanced Automation
4.  Over recent years manufacturers have been developing intelligent systems capable of managing all the features for your pool and spa including lights, pumps, filtration systems, chemical feeders, jets, heaters and any other electrical component you may have incorporated into your landscaping.
Today's technology makes these systems very helpful and accessible. Some controls interface with your cell phone giving you ultimate remote access, while others have LCD touch screens and control pads that mount inside your home to make managing your pool and spa even more convenient. Available options are constantly changing and evolving as technology develops. The Hayward AquaRite+ has the added benefit of being expandable, so if the fully upgraded model doesn't fit today's budget it can be expanded in the future to include additional features.  We have installed a few advanced systems however I see this area as growing rapidly and becoming more common in the future.
If you are interested in automating your pool please get in touch with us. We will look at the latest advances and let you know what is available and will suit your needs.