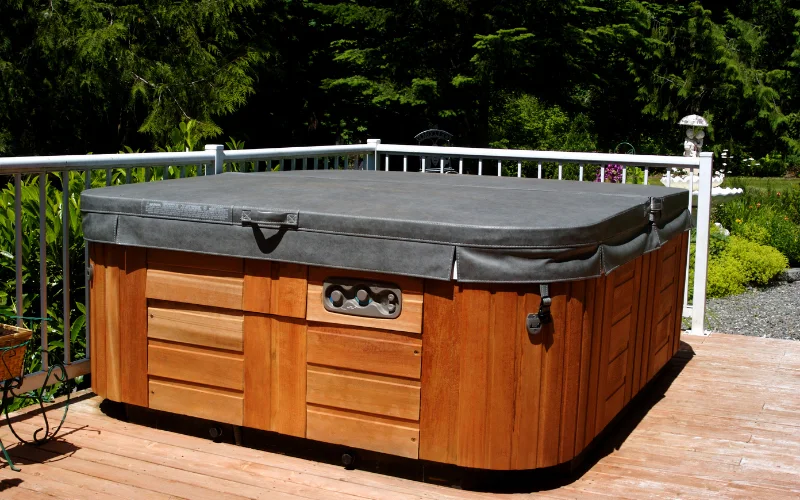 We often get asked whether spa pool covers and fencing are required. Spa pools with a water surface of 5m² or less do not need to be fenced as long as they meet the criteria prescribed in F9/AS2. They do, however, need a lockable cover.
See the specifications below for covers on small heated pools. If your cover does not meet these specifications or if your spa pool doesn't meet the specifications it will need to be fenced according to the current legislation.
Spa pool walls
The top surface of the pool wall must be no less than 760mm above the adjacent floor or ground, and the walls must be vertical or have an outward slope of less and 15° to prevent climbing. There should also be no objects or projections within 760mm of the top edge that could assist climbing.
Spa pool cover strength
Covers must be capable of supporting a vertical point load of 20kg when imposed over an area of 120mm diameter at the centre of the cover. The top surface must be constructed with a slope from the centre to the outside edges to prevent water pooling on the cover.
Cover fastenings
Covers must be held in place with straps fitted with lockable snap fasteners that are at least 33mm wide. The hold-down straps and fasteners must ensure there is no opening that a 100mm sphere could pass through when a 10kg force is applied to the cover in any direction and at any point.
Signage
Signs complying with Paragraphs 2.2 and 3.2.2. of F8/AS1 containing the following text with black letters not less than 5mm in height must be fitted on two opposite sides of the cover: 'WARNING: This spa pool cover must be kept locked except when under adult supervision.'
If your spa pool does not meet the requirements for small heated pools it must meet all the requirements for pool fencing.
View the MBIE document F9/AS2 Covers for small heated pools: