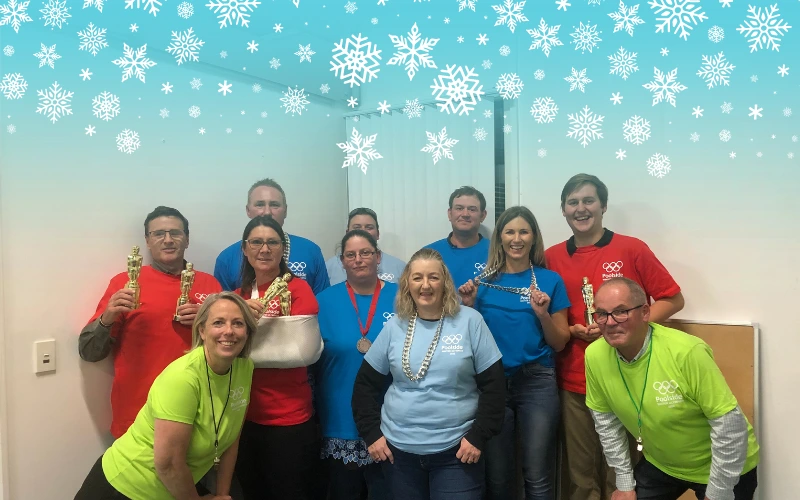 As everyone knows, the Winter Olympic Games is a major international multi-sport event held once every four years for sports practiced on snow and ice. The Poolside Team Winter Olympics is a highly competitive indoor multi-sport event, held annually with our valued team and their partners. We swapped snow and ice for darts, stairs, and pool cues. The medals meant as much to us – the three teams were as determined and featured highly tuned athletes (drinkers), just like the real deal!
As a business, we are super busy over summer so we celebrate and reward the team in the cooler months. A Winter Olympics with full medal ceremonies, followed by dinner, was this year's fun team-building event. Our two stewards Lynda and Richard Roche (aka Poolside owners) created a diverse indoor Olympics 3-team challenge, in our new Blenheim Road building.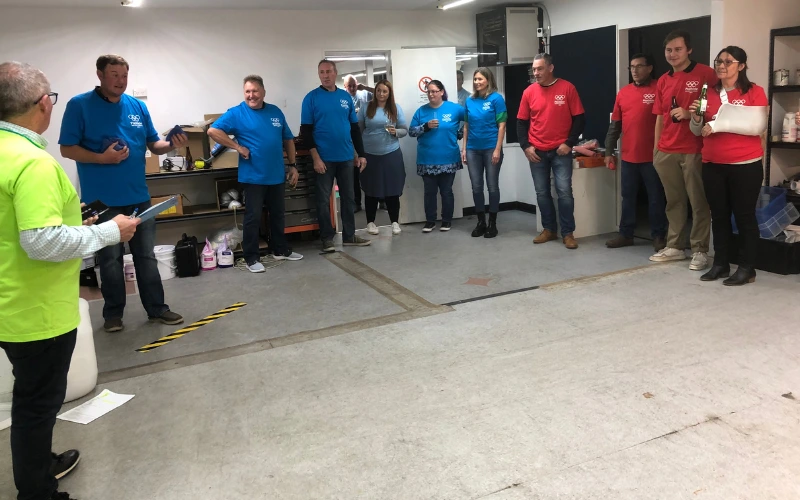 Richard kicking the Games off with Ice Hockey (corn hole).
Three teams of Greece, Argentina, and Iceland were formed – these countries have had the most appearances at the Winter Olympics without ever winning a medal! Poolside Team Members were randomly mixed in each team, with their partners in different teams.
Team strips were handed out:
Iceland in red
Greece in darker blue
Argentina decked in the pale blue
Stewards in high viz yellow!
The key Winter Games included Ice Hockey (aka Corn Hole), Biathlon (stair climb and dart-throwing), Curling (pool), Shooting (darts), and Bobsled (the team lined up bobsled style for a drawing version of 'pass the message' on each other's backs). Cheating and laughing were encouraged, with liquid refreshments keeping the athletes hydrated.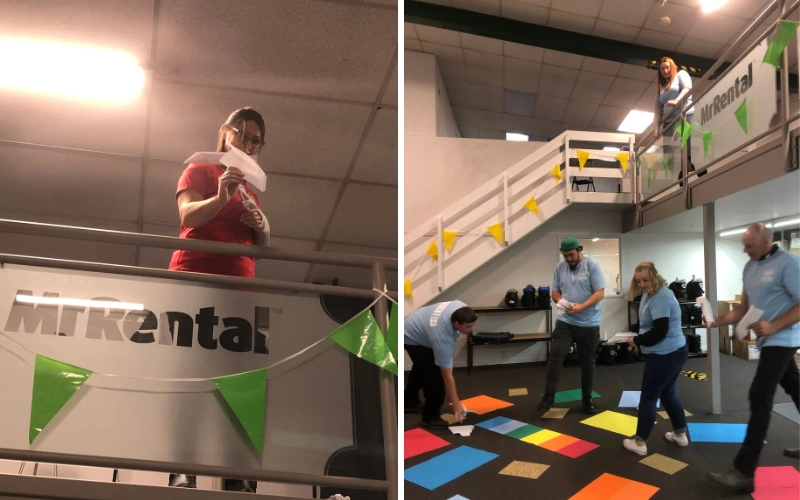 Biathlon event (stair climb and dart-throwing).
There were medal-winning moments aplenty and we enjoyed celebrating the world's Poolside's finest athletes in their quest for gold at the 2022 Poolside Team Winter Olympic Games in Christchurch.
Lee needed some team assistance for the Curling (pool) event!
The drama of live sport: There was a tie for second in the Curling event. Each team nominated a player for a decider playoff and both teams put forward their best Curler only to discover the playoff was a game of paper/scissors/rock. The looks on their faces was priceless!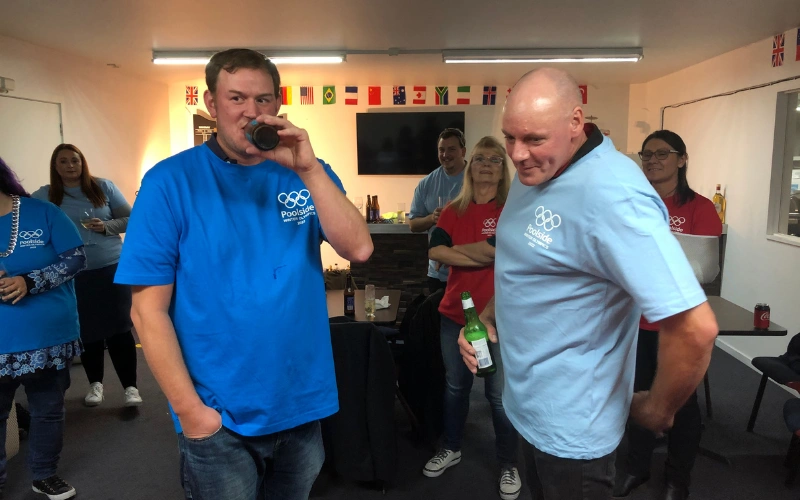 Finding out the curling playoff was rock/paper/scissors.
The Closing Ceremony in Christchurch brought departments and athletes together for the official end of the hard-fought competition. The whole Poolside team and their partners walked to dinner at Madam Kwong's where special awards were presented.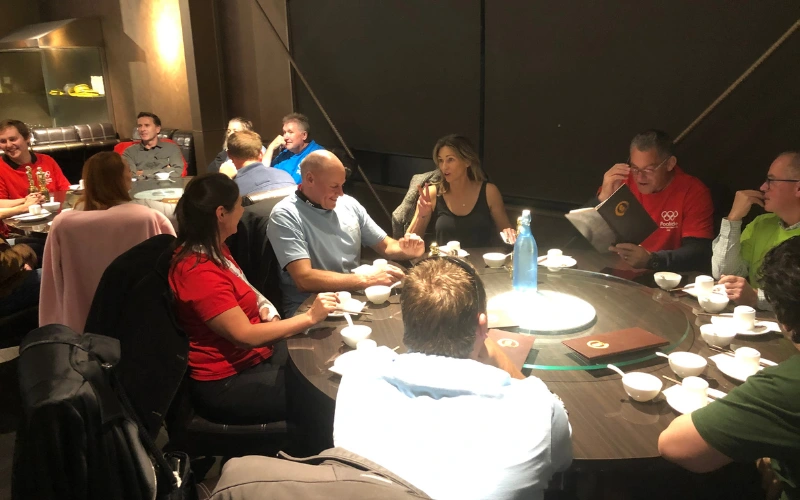 Poolside team dinner and Closing Ceremony at Madam Kwong's.
The final medal tally:
Iceland 5 Gold
Argentina 3 Silver, 2 Bronze
Greece 2 Silver, 3 Bronze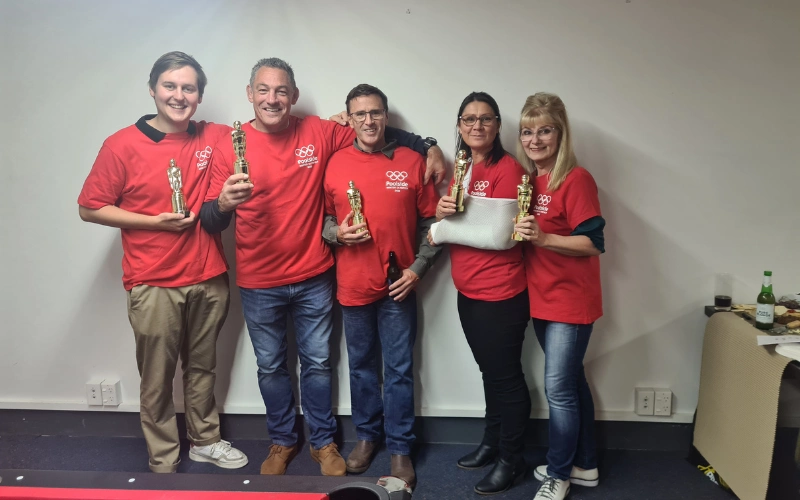 The winning team – Iceland!
"The most important thing in the Olympics is not to win, but to take part, just as the most important in life is not the triumph but the struggle."  – Pierre du Coubertin.
Not sure Trev (team Greece) agrees with this as he's already in training for next year's event!
Thanks to everyone for being such good sports and helping us make Poolside an award-winning business, based on a team of great people.